ACRA-Qld State Heart Week Webinar: Register now
April 28 @ 1:00 pm

-

2:30 pm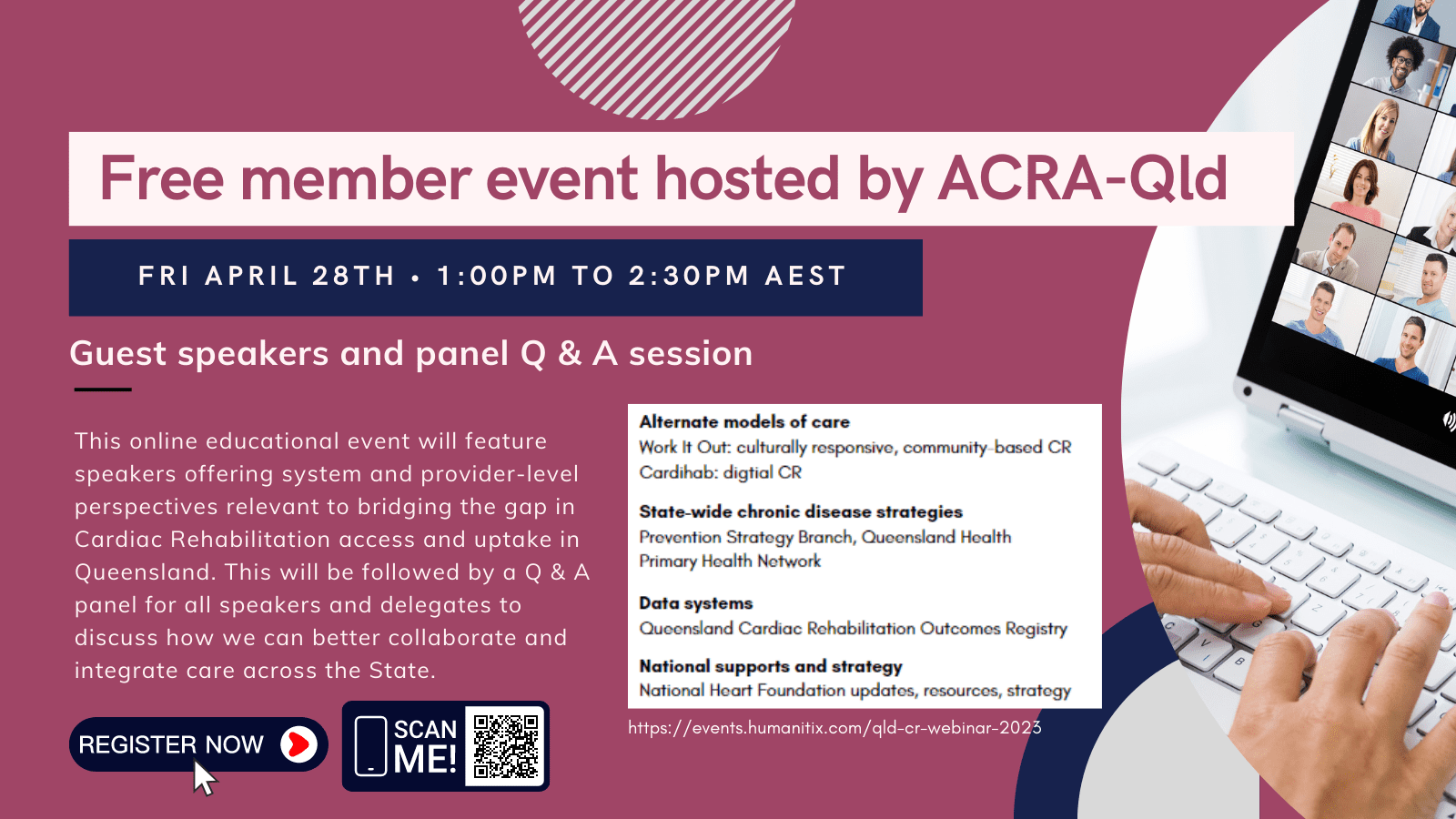 ACRA-Qld is pleased to announce they will be hosting a webinar in the lead into Heart Week 2023. The webinar titled, Provider and System-Level Approaches to Bridging the Cardiac Rehabilitation Service Delivery Gap in Queensland, will focus on broader approaches we can use to bring equitable care to all Australians with Heart Disease. While the webinar will have a focus on Queensland systems, the discussions are likely to be relevant beyond the State.
The webinar will be held online on Friday the 28th April, from 1:00pm to 2:30pm and includes keynote speakers and a panel discussion.
Topics include:
State-wide chronic disease prevention strategies | Queensland Health Prevention Branch and Primary Health Network

Cardiac Rehabilitation and data in Queensland Health | Queensland Cardiac Rehabilitation Advisor
Alternate models of care | Cardihab (digital CR) and Work It Out (community-based and culturally responsive CR)

National strategies and resources | National Heart Foundation
Panel questions and discussion
Registration is free for all ACRA members: register now!
Full program with speaker times available: download here
Speakers include:
National strategies and resources (Heart Foundation) | Chloe Truesdale is an accredited Exercise Physiologist, project manager and health promotion specialist currently working for the Heart Foundation in a senior national role. Chloe has extensive experience working for Queensland Health in public and private hospital & health care services. Chloe is passionate about increasing health literacy, public awareness and environmental change in order to see greater cardiovascular health outcomes.
State-wide chronic disease prevention strategies (QH Prevention Branch) | Simone Braithwaite is a health professional with more than 30 years' experience working in a diverse range of roles at community, regional, statewide and national levels. Simone holds formal qualifications in public policy, public health, health promotion, nutrition and dietetics. She thrives on the pursuit of understanding the complexities of human health and wellbeing and the challenge of supporting healthy behaviours through strong public policy.
Cardiac Rehabilitation in Queensland Health | Samara Phillips is the Queensland Cardiac Rehabilitation Adviser. A position that is funded by Queensland Health to originally support and lead the development and implementation of a cardiac rehabilitation module within Queensland Cardiac Outcomes Registry. This position is now active in the overall governance, quality and service improvement of the public outpatient cardiac rehabilitation programs delivered from approximately 55 sites across Queensland.
Culturally responsive Cardiac Rehabilitation programs | Katrina Ghidella has over 10 years of experience working in Aboriginal and Torres Strait Islander Health. As an Accredited Exercise Physiologist Katrina is passionate about working with clients and their families in a culturally responsive manner to achieve client-centred health outcomes. As the Rehabilitation Programs Manager at the Institute for Urban Indigenous Health, Katrina is leading the rollout of brand new community-based Cardiac and Pulmonary Rehabilitation programs.
The role of the digital therapeutics in delivering equitable care | Christine Kwong is a Clinical Nurse with experience in cardiac nursing such as Coronary Care, Cardiac Catheter Lab and 10 years as a Cardiac Rehabilitation Nurse. As Cardihab's Clinical Lead, Christine is responsible for ensuring the design of care plans are both aligned with clinical guidelines and clinical practice. Christine is also responsible for ensuring that Cardihab customers are supported as they integrate our platform into their models of care.