Atrial Fibrillation Awareness Week
Hearts4heart are collaborating with the Asia Pacific Heart Rhythm Society and The National Stroke Foundation on an Atrial Fibrillation Screening event from the 4th to the 10th of July. We will be using the week to profile the importance of improved screening, diagnosis and treatment for those affected by Atrial Fibrillation.
Atrial Fibrillation a prevalent and dangerous health arrhythmia problem that affects more than 460,000 Australians. For people living with atrial fibrillation, the risk of stroke is 5-6 times greater than the general population and the risk of mortality can increase by up to 90%. It is estimated that the costs of atrial fibrillation to the Australian economy are at least AU$1.25 billion per year, with approximately 60% of these costs resulting from stroke and heart failure.
Early diagnoses is crucial and as such we encourage the participation of hospitals across Australia to participate in holding a stand at the entrance of their hospital to provide free screening for AF. If you are interested in participating in the campaign and would like more information, please contact Tanya Hall at tanya.hall@hearts4heart.org.au or on 0426 240 636. All materials and screening devices will be provided.
For more details, view below information sheets: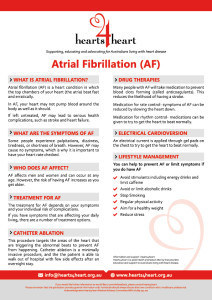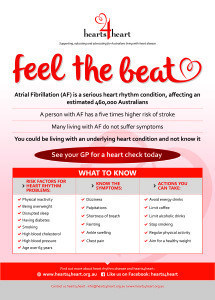 .