Home | Registration | Sponsorship | Social Functions | Accommodation | Program
Welcome Reception
 
| | |
| --- | --- |
| Date: | Monday, 7 August 2017 |
| Time: | 1800 – 2000 |
| Cost: | Included in all Full Conference Registration Packages. |
| | Additional Tickets $60 per person |
| | |
| --- | --- |
| Venue: | Rendezvous Hotel Perth Scarborough, Mentelle Room |
Yoga
| | |
| --- | --- |
| Date: | Tuesday, 8 August 2017 |
| Time: | 0630 – 0715 |
| Cost: | Free |
| | |

Gala Dinner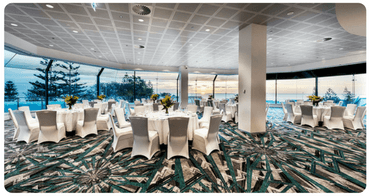 | | |
| --- | --- |
| Date: | Tuesday, 8 August 2017 |
| Time: | 1830 – 2300 |
| Cost: | Included in all Full Conference Registration Packages. |
| | Additional Tickets $120 per person |
|  Theme: | Get Totally Tropical! |
| | |
| --- | --- |
| Venue: | Rendezvous Hotel Perth Scarborough, Mentelle Room |
This year's Annual ACRA Gala Dinner is going 'Totally Tropical'! This is your opportunity to "Dress to Impress" in your bright and tropical outfit.
Show us your moves in your Hawaiian Shirt or save the day as a Surf Life Saver!
Get Involved, Get Creative, Get TOTALLY TROPICAL!
Special Guest Performance
Please welcome Veronica Bravo as our special guest performer at the ACRA 2017 ASM Gala Dinner!
Veronica is a successful X-Factor finalist and Billboard Charting Artist
Morning Walk
| | |
| --- | --- |
| Date: | Wednesday, 9 August 2017 |
| Time: | 0700 – 0800 |
| Cost: | Free |
| | |
| | |
Discover Perth
ACRA Conference Delegates are invited to Discover Perth with Captain Cook Cruises and 'Out and About Wine Tours'. Tantalise your senses in The Tourism Award Winning Wine Tour which allows you to 'Experience the Difference' or relax and capture the beautiful scenic views of Perth by Captain Cook Cruises before the ACRA 2017 ASM.
More information on how to access these discounts will be provided to conference delegates via the Conference App. Once you have registered to attend the ACRA 2017 ASM, you will be sent a link to access the Conference App.
Captain Cook Cruises
As Perth's premier cruise company, Captain Cook Cruises has been providing picturesque cruises from the magnificent vantage point of the Swan River for over 30 years. Located in the magnificent Elizabeth Quay precinct on Barrack Street Jetty, they are conveniently located just a short stroll from Perth's CBD. Guests can select from a range of tours that take in beautiful scenic views and provide easy access to Perth, Fremantle and the Swan Valley.
Captain Cook Cruises offer a variety of scenic, lunch, dinner beer and wine cruises to choose from with an experience to suit every visitor. To discover the Swan River is to discover the true beauty and essence of the city, and simply put, a trip to Perth is not complete without a visit to Captain Cook Cruises.
Out and About Wine Tours
Winery Experience Tour Normally $110 – 20% discount
Discover Swan Valley's wonderfully unique and world class wineries all packaged together with an exception tour guide giving you interesting and informative commentary. Be treated as a long-lost friend at cellar doors offering premium wines, remarkable characters and priceless ambience. Feast on gourmet vineyard platters, cheese boards, beers and heart stopping chocolates and truffles.  We'll have you enjoying the memories long after the last wine is savored.
River Cruise & Vineyard Tour Normally $149 – 10% discount
Get the best of both worlds! The morning finds you meandering through the picturesque upper reaches of the Swan River…glass in hand enjoying the view.  Then the pace picks up just a little as you are swept away in an air-conditioned coach for an indulgent experience of unique vineyards, world class wines, gourmet cheese platters, delicious food, great beer and heart stopping truffles and chocolate. Can you think of a reason why not to book?
Out for the Afternoon Normally $85 – 10% discount
Don't have all day or would like to sleep in? Now you can find yourself in the Swan Valley for the afternoon sipping on world class wines tantalizing your senses with a wonderful lunch and indulging on handmade chocolates.